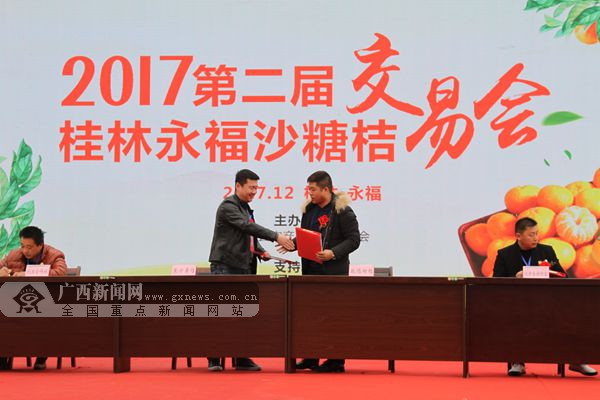 Representatives of Yongfu County selenium-enriched sugar and orange cooperatives signed on-site contracts with representatives from major markets across the country. Photo by Guangxi News Network reporter Chen Chuangming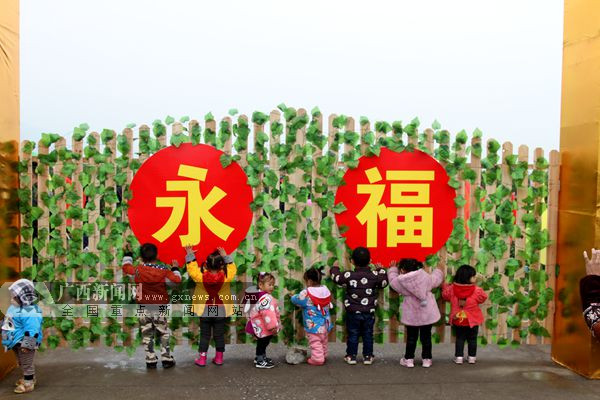 At the opening ceremony of the ten thousand acres of sand sugar orange, Fuwa came to the door. Photo by Guangxi News Network reporter Chen Chuangming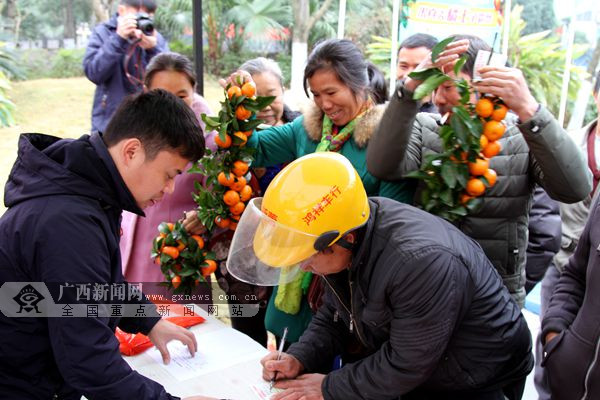 At the Fushou Plaza, fruit farmers actively participated in the Orange King competition. Photo by Guangxi News Network reporter Chen Chuangming
Held the "Fu Shou Yuan" acres of selenium-rich sand sugar orange opening ceremony and picking activities in Shangshui Village, Luojin Town. Photo by Guangxi News Network reporter Chen Chuangming
The 2nd Guilin Yongfusha Tangerine Trade Fair held its opening ceremony on December 28, 2017 in Yongfu County.
At 9 am on December 28, the second Guilin Yongfusha Tangerine Fair opened at Fushou Plaza in Yongfu County. The reporter learned at the trade fair that from December to around the Spring Festival each year, it is the season when Shatang oranges in Yongfu County are ripe for listing. In order to further expand the popularity of selenium-enriched sugar syrup, Yongfu County sent investment invitation teams to Beijing, Shanghai, Nanjing, Chongqing, Shenyang, and Inner Mongolia to conduct investment invitations. Focusing on the three advantageous brands of "Fushou, Selenium-enriched, and Ecology", Yongfu County has implemented the "Six One Project" to build a strong modern agricultural county.
Yongfu County is the first batch of "Longevity in China". Yongfu is a selenium-rich county with 2 micrograms of selenium per kilogram of water and 1.1 milligrams of selenium per kilogram of soil. The county's selenium content based on the county's cultivated land is the national average of 3.8 This advantage has been vigorously developed to develop the selenium-rich industry. In 2017, the county's selenium-rich sand sugar orange has exceeded 360,000 mu, with an output of nearly 500,000 tons. The selenium-rich sand sugar orange industry has become an important starting point for the county's industry to help the poor and help the people get rich.
At the opening ceremony of the fair, representatives of Yongfu County selenium-enriched sugar and orange cooperatives signed on-site contracts with representatives of production and sales cooperation in major markets across the country to recognize the "top ten planting experts" and other links.
After the opening ceremony of the fair, Fushou Plaza also held the Orange Kings hegemony; at the same time, the "Fu Shou Yuan" 10,000 acres of selenium-rich sand sugar orange opening ceremony and picking activities were held in Shangshui Village, Luojin Town.
At this session of the Tangtang Orange Fair, forums and annual work conferences for the Collaborative Innovation Alliance for Comprehensive Prevention and Control of Huanglongbing in citrus-dominant regions, as well as agricultural products, agricultural machinery exhibitions, and photo contest exhibitions are also held.