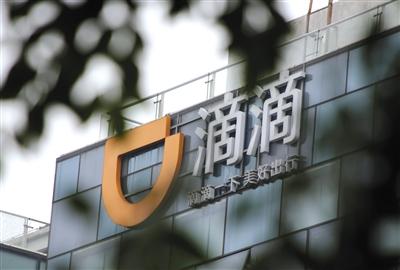 Didi Travel Logo on Didi Headquarters Building, Beijing, August 28. Pictures / Visual China
The business model of Shunfengche is re-evaluated, and it will go offline indefinitely before being recognized; the key points of the interview are to have a legal operating qualification
On the evening of August 28, Cheng Wei, the founder of Didi Chuxing, and Liu Qing, the president, issued an apology letter, stating that the business model of Shunfeng will be re-evaluated and will go offline indefinitely before the safety protection measures have been approved by users. "Didi no longer regards scale and growth as a measure of company development, but instead uses security as its core assessment indicator, and its organization and resources are fully committed to the security and customer service system."
At this time, the Wenzhou Shunfeng car incident triggered a new round of travel supervision. On August 26, Didi announced that it will take off the windmill business nationwide starting at 00:00 on August 27. At the same time, the Ministry of Transport and local transport management departments interviewed Didi respectively. According to incomplete statistics from Beijing News reporters, as of August 28, 14 places including Beijing, Tianjin, Nanjing, Guangzhou, Shenzhen, Wuhan, Haikou, Guiyang, Chongqing, Suzhou and Lanzhou participated in the interview. In addition, Zhejiang, Guangdong, Fujian and other provincial transport management departments also put forward relevant rectification requirements for Didi.
The Beijing News reporter found that the focus of the interviews by transportation management departments in various places mainly focused on the following aspects. The online car rental platform must ensure that the platform, vehicles, and personnel have legal operating qualifications; remove all non-compliant vehicles and personnel on the platform; Integrate operational data into government regulatory platforms in a complete and real-time manner. At the same time, requirements were raised in terms of not allowing low-price competition and maintaining normal market order.
In addition to this, the Guiyang City Transportation Management Department requested that the online car platform company implement the on-board "one-button alarm" device as soon as possible. The Fujian Provincial Transportation Management Department requires Didi to properly handle the relationship between the company and the company, coordinate the interests of the driver and the enterprise, respond to the driver's demands in a timely manner, and eliminate the factors of instability. Guangdong Province and Shenzhen require Didi to complete rectification before the end of September, otherwise Didi's business license and App will be removed.
Real-time access to government regulatory platforms
On August 28, Wang Fumin, deputy director of the Guangdong Provincial Department of Communications, disclosed that "Didi refused to provide data to government departments for monitoring not only in Guangdong but also across the country, and refused to provide detailed driver and operating vehicle data. Targeted law enforcement can only be enforced by primitive containment. "
According to industry insiders, many cities require online taxi drivers to be local hukou, but in order to increase platform penetration and increase the activity of platform drivers, many online taxi platforms including Didi have some non-native origins. Driver. This has become a major reason why online ride-hailing platforms are reluctant to access government regulatory platforms.
In actual operation, the travel field is unique, and the crew members are uncertain. The Wenzhou Shunfeng car incident has once again put the safety issue of the online car platform on the table. Therefore, the transportation management departments in Guangzhou, Dongguan, Chongqing, Lanzhou, Tianjin, Fujian and other places have explicitly requested Didi and other online car-hailing platforms to "access the network data information according to laws and regulations and submit application materials. It is necessary to ensure that the operating data is complete and accessible in real time. Into the government's supervision platform. "Guangzhou city requires" connect relevant data to the Guangzhou government's supervision platform and ensure that the data is real-time, full and true. "
On the evening of the 28th, Didi said that it will work with the public security department to build a user security protection mechanism, respond efficiently to the needs of public security departments in accordance with the law, and start testing the police self-service inquiry system that has been developed.
Remove platforms and vehicles that are out of compliance
The problem of non-compliant vehicles and personnel on the online car platform has a long history. After the Meituan taxi was launched in Shanghai in March this year, law enforcement activities to crack down on black cars across the country were launched.
In response to the flight attendant ride-hailing case in May this year, Didi announced the progress of its self-examination, saying that the order receiving account belongs to the suspect's father and normally passed the three-certificate verification, criminal background screening, and receiving the first order when it was registered. Before face recognition and other security measures. The suspect was illegally borrowing his father's Shunfeng account to take orders.
Subsequently, Didi stepped up its rectification efforts in achieving "people-car consensus". On June 1st of this year, the express train launched a non-compliance evaluation mechanism. Passengers were actively invited to evaluate whether the driver and the vehicle were consistent with the information displayed by the software, and contacted passengers on multiple orders before and after to verify. The non-compliance was confirmed and banned immediately. In some cities, the driver's face recognition function is available every day before leaving the car. Currently, not all models have been fully launched.
Earlier, reporters from the Beijing News found on some social platforms that there are some intermediaries that provide services such as washing car account online and quickly passing audits, which can help Rufei "Jingren Jingche" successfully engage in online ride-hailing services in Beijing. However, for some time, black trucks have been cracked down everywhere, and the Wenzhou Shunfeng incident has caused many agencies to suspend orders.
In this intensive interview, Shenzhen, Guiyang, Haikou, Tianjin, Nanjing, Fujian, Shenzhen and other places have put forward relevant requirements for "people and vehicles consistent." Tianjin Municipality requires that "stop the access to non-compliant vehicles and personnel immediately and remove all non-compliant vehicles and personnel on the platform; it is forbidden to send orders to unlicensed vehicles and personnel." Nanjing requires the online car platform, "clear All vehicles on the retiring platform that do not have legal operating qualifications and drivers who do not have the qualifications to practice, ensure that the vehicles that provide services online and offline are consistent with the drivers. "
Do not disrupt the market order by operating at low prices
Since 2012, online ride-hailing platforms have been fiercely competitive. In order to cultivate user habits, Didi and Kuaizuo then subsidized burning money. Didiguo merged quickly and continued to compete with Uber China for subsidies until the merger. Uber China.
Currently, Didi occupies a major share of the domestic ride-hailing market. According to the Aurora Big Data, from January to August 20, 2018, Didi Chuxing 's App Penetration rate was 14.95%, and Clicka 's 1.58% ranked second. China 's special car, Shouqi 's car, and Meituan 's taxi were 1.31. %, 0.3%, 0.21%.
In March of this year, Meituan promoted its taxi-driving business in Nanjing nationwide. When entering Shanghai, they displayed promotional posters such as "one yuan for departure" and "low price for departure." At that time, the Shanghai Transportation Management Department interviewed the head of the Meituan taxi.
This time, Shenzhen, Nanjing, Tianjin, Fujian and other places all required that Didi and other ride-hailing platforms must not compete at low prices. Nanjing mentioned that "the normal market order should be effectively maintained and the legitimate rights and interests of other operators should not be harmed." "In Shenzhen, we must not impede fair market competition and disrupt normal market order by operating at a lower cost."
■ Extension
How does the platform ensure safety beyond the offline ride?
On August 27, Didi said that it will take its downwind car business offline nationwide, re-evaluate its business model, and when it will go online is yet to be determined. In the evening of that day, Teddy quietly rolled off the ride-hailing business at night (23: 00-5: 00). The day before, Gaode announced that it was offline.
Regarding the frequent incidents of downwind cars, user Chen Dan (pseudonym) said, "Sometimes I feel scared when riding a downwind car. Because of frequent accidents, I will send messages to family and friends to locate. Generally, long-distance non-dropping, short-distance only "The user Lin Mei (pseudonym) said that the downwind is cheap, but there are advantages and disadvantages. "Many people say that they want to cancel the ride, I think we can strengthen the identity verification of drivers and other safety factors." Mr. Liu, the owner of the ride, said, "So many people across the country will inevitably have one or two lunatics. If It doesn't matter if the ride is permanently off the line. "
After the stewardess incident, on May 15 this year, Cai Tuanjie, deputy director of the Transportation Services Department of the Ministry of Transport, said that localities should strengthen supervision and inspection of the downwind business launched by platform companies, urge enterprises to conduct business legally and compliantly, and strictly investigate and punish private It is a real illegal act of operating a passenger car in the name of illegal operation to prevent misunderstanding and protect the legitimate rights and interests of all parties. The platform company shall fulfill its responsibilities for transportation services in accordance with relevant regulations, strengthen information audits, and ensure carpool safety.
At present, there are frequent cases of downwinds, and strengthening supervision will be inevitable. The suspension of the Didi Shunfeng business in Zhejiang is just the beginning, and other provinces and the Ministry of Transport have followed up. Today, Didi's off-road ride-hailing business has yet to be verified whether the problem can be completely resolved.
As a large-scale travel platform, Didi occupies a major share of the shared travel market, and it is difficult for the company to cope with it alone. Whether it is necessary to introduce public security forces to really do a good job of travel safety, and how to balance the safety and efficiency of shared travel is a question for regulators and enterprises to answer.
Various cases are frequent, and the distribution of benefits for drivers and enterprises is worthy of attention.
After the Wenzhou Shunfeng car incident, Didi has attracted much attention, and various cases of Didi drivers have been reported everywhere. Recently, when a user was riding a Didi special vehicle, he encountered a traffic police card check and the driver was stopped by the police after he rushed to stop the car. In the early morning of August 28, Didi responded that the incident was because the driver of the car had a number of violation records unprocessed and was worried about being detained by the traffic police, so he continued to stop without following the traffic police instructions. At present, the driver's vehicle has been detained by the traffic police, and the driver has been banned by the platform due to violations of road traffic regulations.
In addition, the Shanghai Yidi Express driver added the user WeChat to five-star praise and sent a "harassment" message. On August 27, Didi responded that after investigating the passenger's complaint, the driver's account has been banned.
According to the Haidian Court's announcement, there are many cases of Didi Shunfeng. In 2015, there was a case in which a Didi Shunfeng driver beat a passenger and caused minor injuries. In 2016, a Shunfeng driver robbed a female passenger. In the past two years, a total of 3 cases of rape and obscenity by a Shunfeng driver. In 2017, one driver was hit by a driver on behalf of Didi and two thefts occurred on behalf of a driver.
Some people in the industry believe that before the online ride-hailing platform competition, high subsidies and high income attracted a large number of young and middle-aged laborers to join Didi platform services. Today, Didi's platform that is on track will certainly not blindly profit. On average, 25% of the fast and special car commissions in the industry also dissatisfied with online taxi drivers. There are a number of drivers who "driving and driving".
The Beijing News reporter learned that, in fact, the income level of drivers of online taxis is not bad in the local area. However, as mentioned by the Fujian Provincial Transportation Management Department, in addition to strengthening supervision, the online ride-hailing platform handles the distribution of benefits between drivers and enterprises to help reduce safety risks.
Beijing News reporter Chen Weicheng intern You Jiaying Chen Shiyi